Welcome

Thank you for your interest in the 13th Street Traffic Calming Project (Phase 1) – your input is important!
How to navigate these slides:
Click on the arrows at the bottom of your screen.
Use the navigation menu at the left of the screen to revisit any part of the meeting.
How to participate
Click through the slides to learn more about the project and give your feedback.
Provide a comment at any time by clicking the "Comment" button at the top of the screen. You can close the form to continue through the slides. Please make sure to hit the "Submit" button to confirm that your comment is sent to the project team.
The entire session should take less than 20 minutes to complete.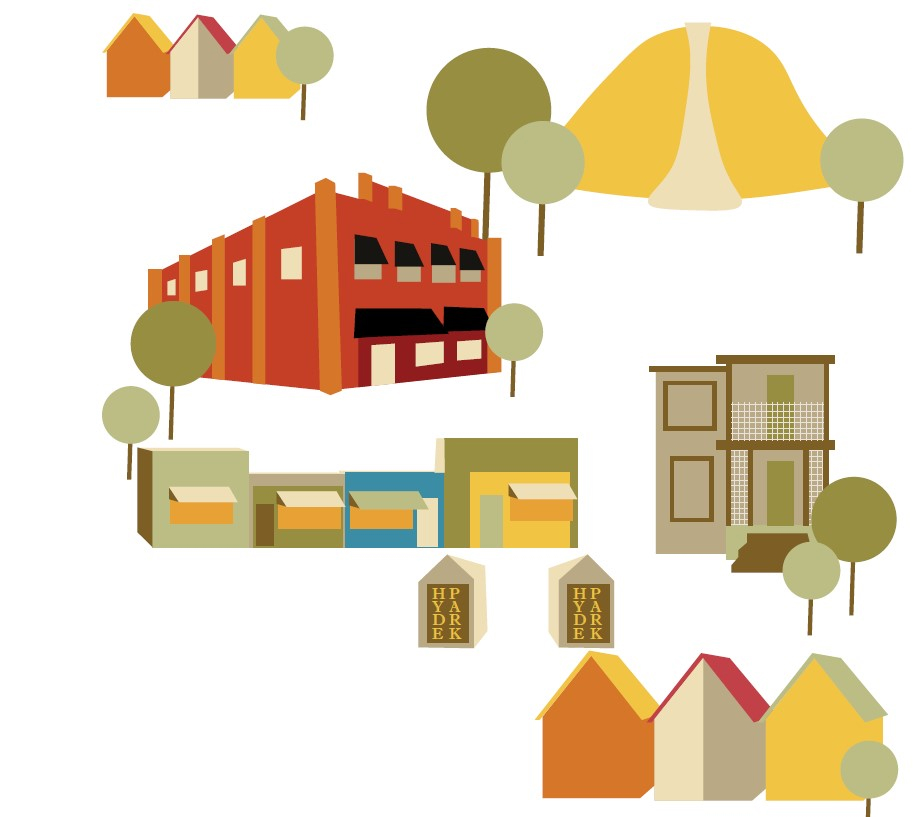 Project Background
The Ada County Highway District (ACHD) conducted a traffic calming concept study for 13th Street from Fort Street to Hill Road in 2018.
The ACHD Commission adopted the 13th Street Traffic Calming Concept Study: Fort Street to Hill Road in July 2018, which includes:

Permanent radar speed limit signs
Bulb outs at several intersections along 13th Street
A rectangular, rapid flashing beacon (RRFB) near North Junior High
extending the sidewalk, curb, and gutter along the north side of 13th Street/Hill Road from Camel's Back Park to 15th Street.

Before adoption, ACHD held neighborhood outreach meetings on March 8, 2018, and May 22, 2018, to collect public feedback about various traffic calming options along 13th Street.
Traffic Investigation Results
Investigation showed peak hour (5-6 p.m.) volumes measured on 13th St. at several locations that met the threshold for traffic calming.
Average speeds of vehicles recorded ranged from 21-29 mph. Some outliers exist where vehicles traveled at higher speeds. Posted speed limit is 20 mph.
The number of cars using 13th St. has remained relatively unchanged over the past 10 years.
Hover over the years below to learn more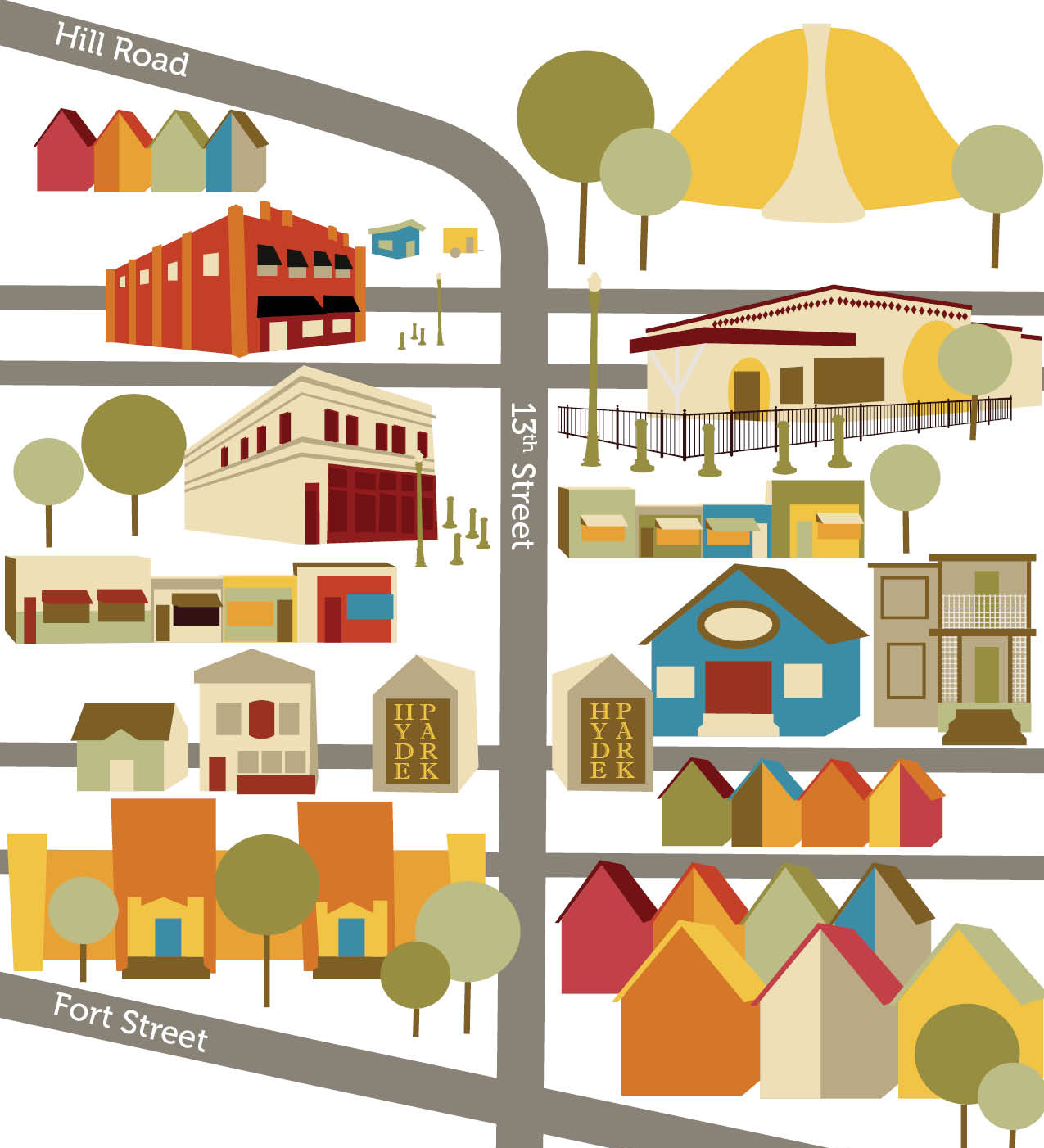 2007
ACHD received a request to close 13th St. to vehicular traffic between Alturas & Brumback. Request was denied.
2008
ACHD received a request for a crosswalk at 13th & Heron. Request was approved.
2015
ACHD installed crosswalk and warning signs at Hazel St. Intersection.
2016
Concerned neighbors submitted petition asking ACHD to look at ways to calm traffic and the13th Street Calming Study became an official project.
2015
Investigation reviewing traffic speeds and volumes completed.
2014
Concerned residents request traffic calming.
Project Phases
The project will be constructed in phases. The Phase 1 improvements are currently funded and will be designed and constructed in the next year. Phase 2 improvements will be funded, designed, and constructed in the future.
Phase 1 Improvements
Phase 2 Improvements
Phase 1 Improvements
Install radar speed limit signs.
Install bulb outs and pedestrian ramp upgrades at five intersections along 13th Street.
Install a Rectangular Rapid Flashing Beacon (RRFB) at the Resseguie Street and 13th Street bulb out crossing.
Replace the existing flume lid sidewalk along Camel's Back Park with new sidewalk.
Phase 1 - Project Details
The speed limit on 13th Street is posted at 20 MPH. Bicycles share the entire roadway lane with motor vehicles.
To make drivers more aware of their speed, ACHD will place permanent radar speed limit signs on the north and south ends of 13th Street.
The bulb outs will make pedestrians at the intersection more visible to motorists and give motorists better views when turning onto 13th Street from cross streets.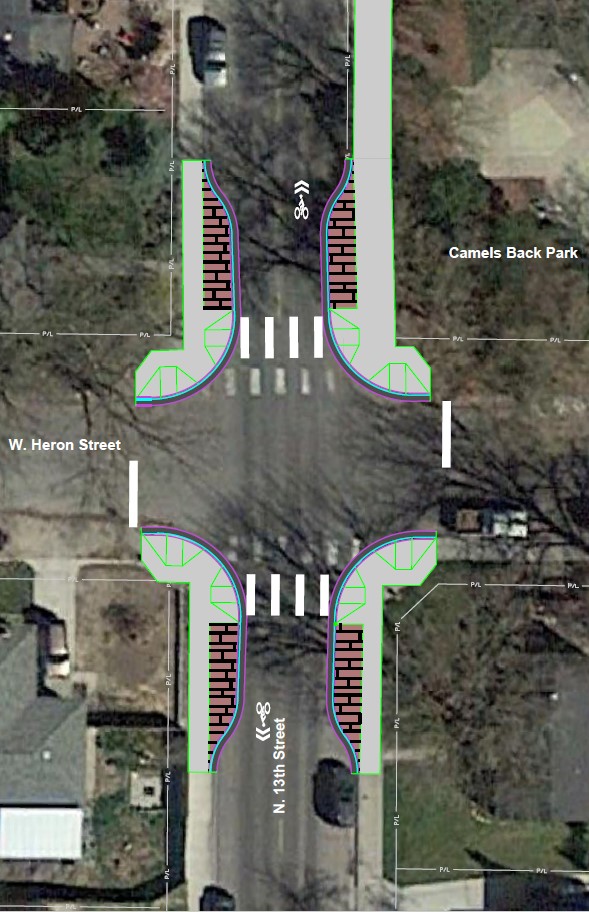 Heron Street
Install bulb outs at the following 13th Street intersections:

Update pedestrian ramps at these intersections to meet Americans with Disabilities Act (ADA), including those on the corners opposite the new bulb outs.
Install a RRFB with the bulb outs at Resseguie Street to enhance the pedestrian crossing near North Junior High.
Replace the existing sidewalk in Camel's Back Park along 13th Street with new sidewalk in same location.
Close the existing driveway by the park restrooms and extend sidewalk to connect to the park sidewalk.
Avoid/protect trees in Camel's Back Park as much as possible and restore landscaping after construction.
Restore parallel parking along Camel's Back Park.

Click image above for larger version
Analyze existing street lighting and upgrade or add lighting, as needed, to safely light the updated crosswalks on 13th Street.
Remove approximately one parking spot on each side of 13th Street to install each bulb out.
On-street parallel parking will be restored on the east side of 13th Street in front of Camel's Back Park between the new bulb outs.
Benefits of Bulb-outs
Slow and calm traffic
Provide space to install ADA compliant pedestrian ramps on existing sidewalks where they are otherwise too narrow
Provide additional visibility and protection for pedestrians when crossing the street
Reduce the exposure of pedestrians to vehicular traffic
Challenges with Bulb-outs
Will require removal of one on-street parking spot on each side of 13th Street in the vicinity of the intersection.
May be difficult for large delivery trucks to navigate.
What is a bulb out?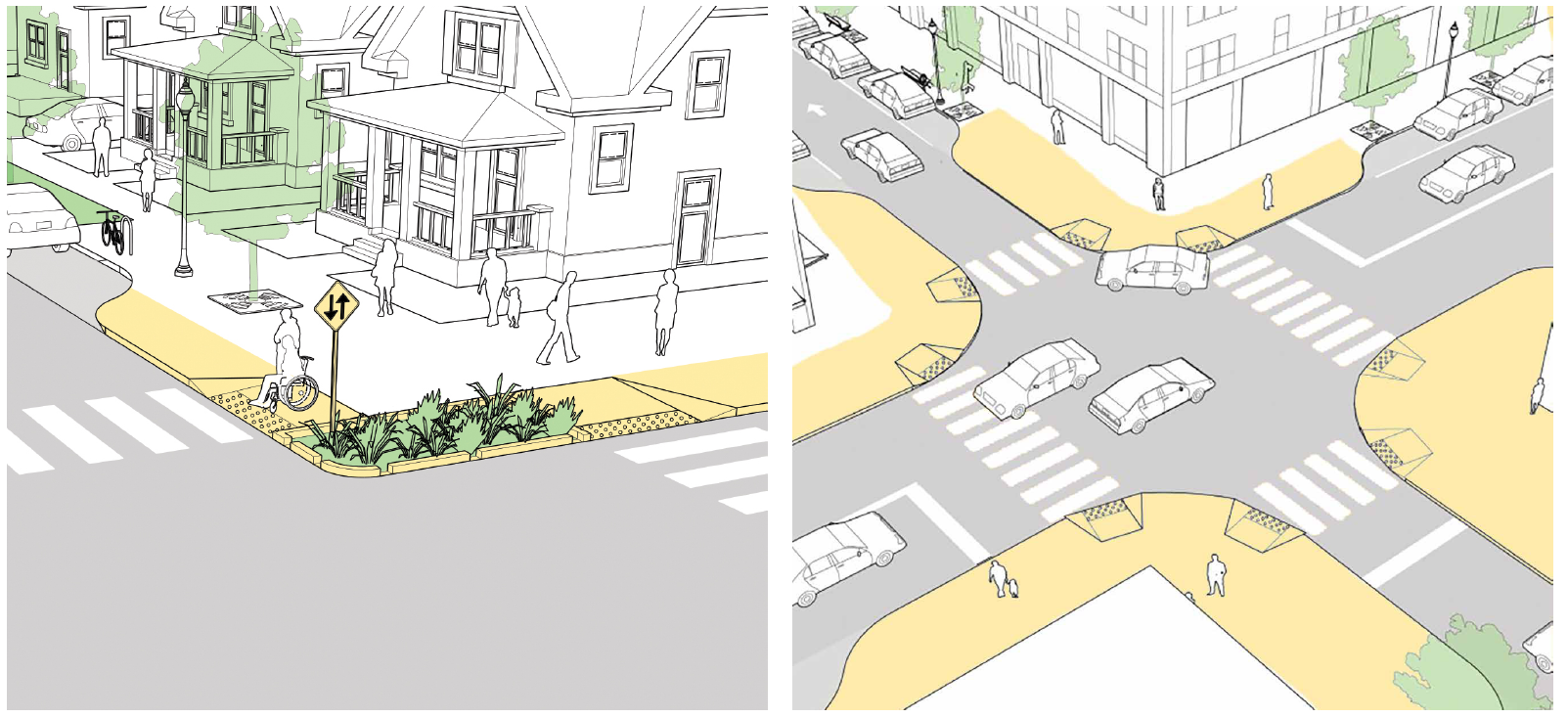 Bulb-outs are an extension of the curb or the sidewalk into the street, usually at an intersection, that narrows the road, inhibits fast turns, and shortens the crossing distance for pedestrians.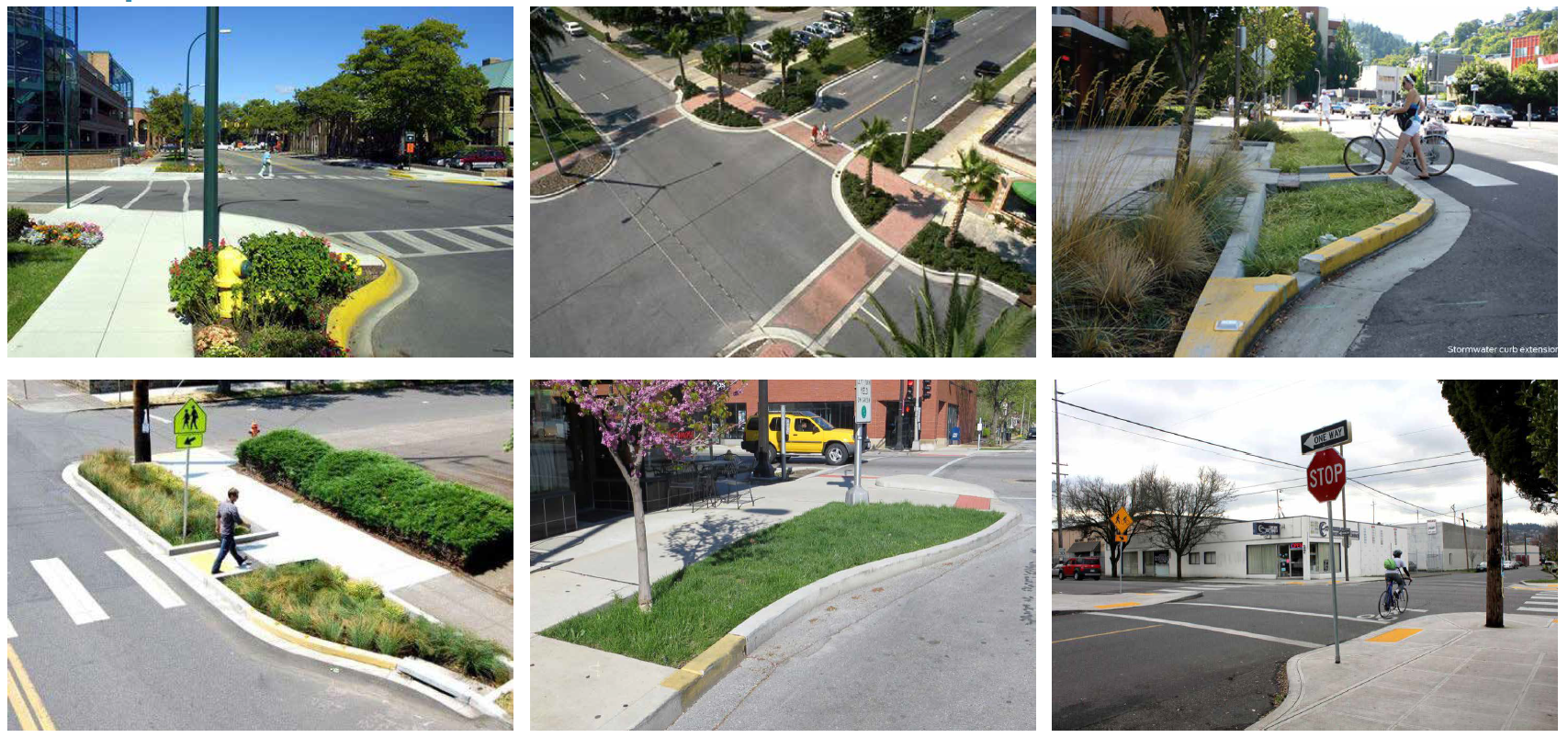 Schedule/What's Next?
Design complete in
winter 2021
Construction begins
summer 2021
Thank You
Thank you for participating! Please visit ACHD's 13th Street Traffic Calming Project homepage.