MnDOT - Highway 371 Study Site
MENU
Highway 371 Study
Reconstruction between County Rd 40 and County Rd 5


MnDOT – Virtual Open House
Welcome to our Highway 371 virtual engagement! The entire session should take no more than 10 minutes to complete. We look forward to receiving your input and continuing to work with you throughout the study. Thank you for your participation in our online engagement.
This study is looking to reflect the current and future transportation needs of Highway 371 between County Road 40 and County Road 5 in Hackensack.
Construction isn't schedule to take place until 2024.
---
Click the image above to enlarge.
About This Presentation
Following guidance from state health officials to prevent the further spread of COVID-19, the Minnesota Department of Transportation has temporarily postponed all public meetings and in-person events. Public engagement on transportation and construction projects remains a priority and we appreciate you joining us online to learn more about this project.
How to Navigate
Click the arrows on the right of your screen to go forward or the left to go backward. Use the navigation bar on the left side of your screen to revisit any part of the meeting.
How to Participate
Click through all 7 slides to learn more about the next steps of the reconstruction project.
Provide a comment at any point by clicking the "Comment" button at the top right of your screen. You may close the form to continue through the slides. Once finished, please make sure to hit "Submit" to confirm that your comment is sent to the project team.
Tell Us About Yourself
How do you use this stretch of Hwy 371?


Let's start by getting to know you a little better! Please take a minute to answer the following survey questions. Your responses will help us understand how you use this stretch of Highway 371 in Hackensack.

When completing each of the three surveys included here, please hit the green "Submit" button before continuing on through the slides. This ensures that your answers will be recorded. Thank you for your input!
See the project area:
---
Click the image above to enlarge.
Your Feedback — Survey Questions
Highway 371 Study Overview
MnDOT is reconstructing Highway 371 between County Rd 40 and County Rd 5 in Hackensack in the next few years. This project will improve the roadway surface, construct new sidewalks and increase safety for all users of Highway 371. It also includes a possible redesign of the Highway 371 and County Highway 5 intersection.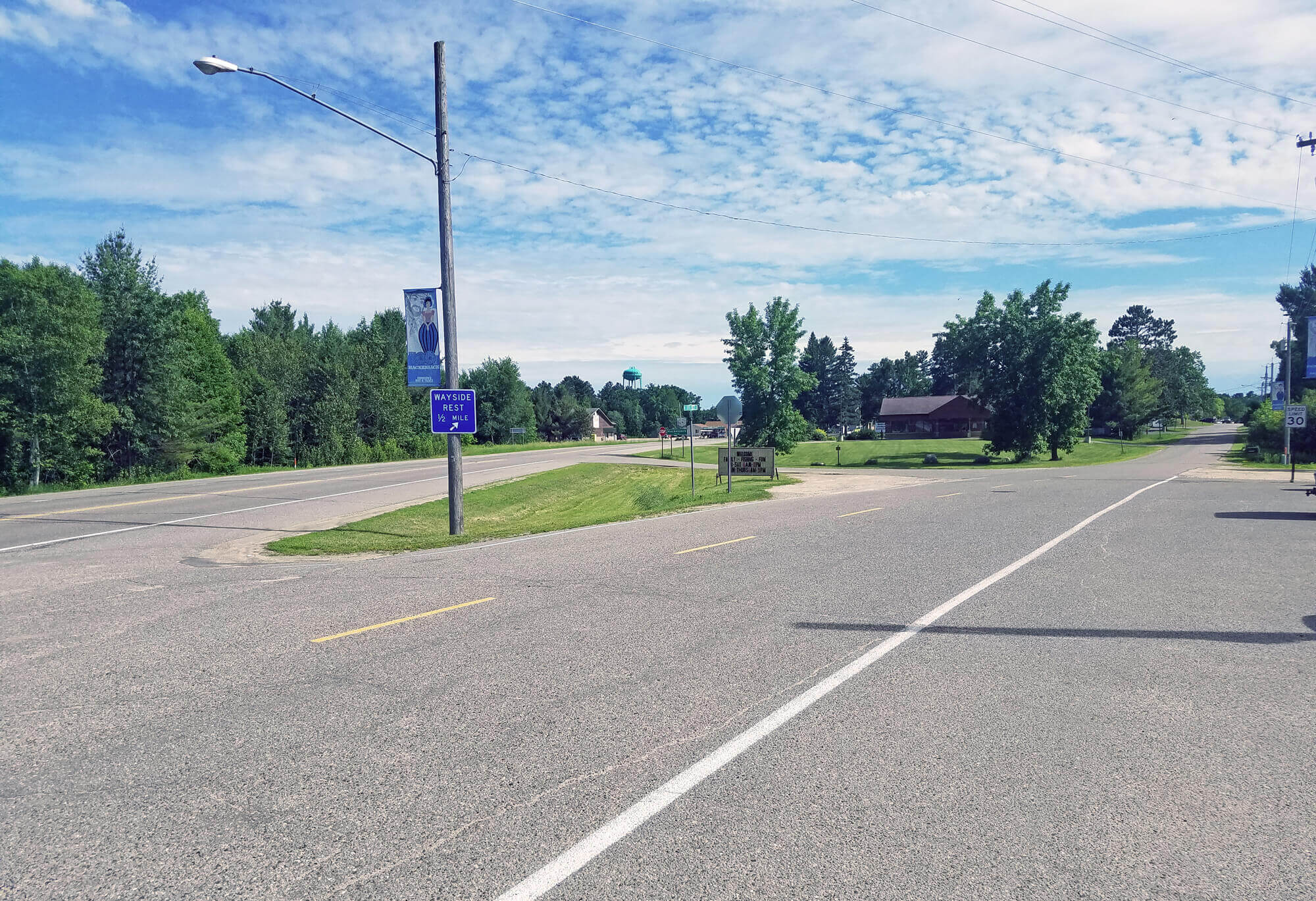 ---
Click the image above to enlarge.
Study Recommendations
Hwy 371 study recommendations will include:
Improved safety for all users
Improved or new bike and pedestrian facilities
County Road 5 and Hwy 371 reconstruction
Engagement Summary
Our team has been engaging with the Hackensack community to gather input that will help our project team create a vision for Highway 371. Our recent engagement efforts are below.
Public Advisory Committee (PAC)
We have a committee of community members serving as advisors to the project team to help shape the vision for the corridor and providing input on design alternatives to best meet the needs of that vision. The group is also helping to identify issues in the community and act as ambassadors for sharing information about the project and encourage participation. The PAC has met three times so far:
September 2019
November 2019
February 2020
Business and Property Owner Meetings
Our project team met with about 20 businesses and property owners along the corridor between November 2019 and February 2020. Our goal was to gather input on the potential corridor design before further development.
---
Click the image above to enlarge.
Community Engagement
In 2019, our project team attended Sweetheart Days and Chainsaw Days in downtown Hackensack. We asked attendees to help us prioritize the corridor by ranking potential improvements. Here's what we heard:
There needs to be improvements made at the Highway 371/County Highway 5 intersection.
Improve sidewalks
Maintain parking spaces
Lower speed
Not adversely affect businesses with new design
It was also important to attendees that local businesses and economic development be part of the final design.
---
Click the image above to enlarge.
Here's Where We Ended Up
After hearing from our stakeholders and the community, our project team developed an initial design concept to move forward for additional review and development.
---
Click the image above to enlarge.
Downtown Hackensack Design Elements
3-lane option

One thru lane in each direction and a center turn lane
Curb and gutter to control highway drainage
Parallel parking along Highway 371
6' sidewalk on each side of Highway 371 throughout the downtown area

Meets the project goal to enhance mobility and safety for all users
Stays within the existing MnDOT right-of-way
See what the design will look like:
---
Click each of the images above to enlarge.
The addition of sidewalks and improved pedestrian crosswalks through the downtown area will improve the ability to walk around downtown as well as provide a safe option to park on a side street and walk to businesses along Highway 371.
Parallel parking spaces will be available in the downtown area on both sides of Highway 371 between Murray Ave. and Whipple Ave.
The sidewalk on Lake Ave., west of Highway 371, will be extended to the alley and additional parking spaces will be available on the street.
---
Click each of the images above to enlarge.
Your Feedback — Survey Questions
Highway 371 and County Highway 5 Intersection
MnDOT is considering a roundabout option at the intersection of Highway 371 and County Road 5 to reduce speed, and improve traffic control and safety at the intersection.
See the initial roundabout design:
---
Click the image above to enlarge.
Roundabout Elements
Roundabouts are designed to accommodate a wide range of vehicle types such as semi-trucks, fuel tankers, as well as vehicles pulling a boat or a trailer. Each roundabout is designed to fit the needs of the specific location.
The roundabout will be designed with crosswalks for pedestrians and bicyclists to navigate through the intersection.
Provides a speed reduction measure at the intersection for traffic approaching Hackensack from the north as well as traffic leaving Hackensack from the south.
Roundabout Benefits

Allow motorists to get through the intersection more safely and in less time
Handle more traffic with less delay than most stop signs or traffic signals
Slow traffic down to make entering and exiting the area easier for all users
Reduce the risk for higher speed crashes as traffic volumes increase
Learn more about roundabouts:
MnDOT offers additional information on roundabouts at link here: www.dot.state.mn.us/roundabouts
Your Feedback — Survey Questions
Stay Connected
Thank you for your interest in the Highway 371 study!


Share This Information
It's important for the community to better understand the design concepts currently being considered for Highway 371 and the Highway 371/County Road 5 intersection. Now is the right time to help MnDOT think through the design for this area, before construction starts.
Please pass along the link to this virtual open house to your family, friends and coworkers that use this stretch of Highway 371.
Tell Us Your Thoughts
If you haven't already, go back to the intersection slides and give us your feedback. To submit a general comment or question for the project team, click on the comment button in the top right corner of your screen.
Visit the Project Website
What's Next For The Project?
---
Click the image above to enlarge.
menu button