Welcome
Welcome to the Louisiana International Terminal Online Open House.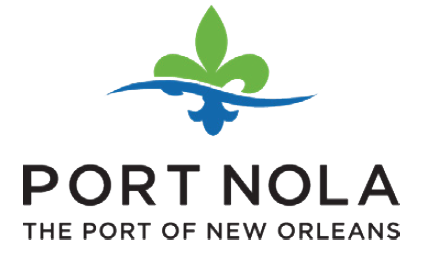 The Louisiana International Terminal is a proposed container terminal in Violet, LA. By welcoming ships that cannot fit under the Crescent City Connection Bridge, the new terminal will keep Louisiana connected to international trade, creating a major economic engine for the state and St. Bernard Parish.
In March 2022, the team behind the Louisiana International Terminal hosted three open houses in St. Bernard Parish to meet with community members. This online open house contains the same information the team presented in person.
Use the menu or the arrows on your screen to advance through this presentation. It covers topics like:
The draft layout for the terminal,
Our commitments related to traffic, the W. Smith Elementary School, the ballpark, and Merrick Cemetery,
The federal permitting process, and
Jobs and economic opportunities.
Please send your questions to the project team using the form on the last slide of the presentation.
These open houses were not a part of the federal permitting process. Our team wants to go above and beyond legal requirements to be available to community members who have questions about the terminal.
Project Background
The proposed Louisiana International Terminal will be Louisiana's gateway to modern global markets. Located on a naturally deep, unobstructed stretch of the Mississippi River in Violet, the facility will welcome large container ships that currently have to bypass our state for other ports.
Over the next two to three years, the terminal will be designed and go through a detailed federal permit process to understand and address its potential impacts on the community and the natural environment. We expect construction to begin in 2025 and the first wharf to open in 2028.
Download this handout to learn more about the timeline for developing the terminal, where we are in the process, and what will come next.
Why Build a Terminal?
Container shipping is how Louisiana products get to market and how we import the products that stock our store shelves and arrive at our doorsteps. The international container business is booming. The number of containers moving in and out of the U.S. has increased significantly over the last ten years. As volume increases, the ships carrying containers are also getting bigger.
The Crescent City Connection Bridge blocks those larger ships from the Port of New Orleans. That limits how many ships can access the current port and puts the state of Louisiana in a vulnerable position. We will lose business to other states and competing ports without a new port downriver.
The Louisiana International Terminal would open our state to larger ships and allow us to stay connected to global markets. The continued shipping activity will benefit our state's consumers and businesses.
Click image above to enlarge
Click image above to enlarge
Click image above to enlarge
Why Violet?
As the need for a downriver container terminal became obvious, the Port of New Orleans considered several potential locations. Riverboat pilots and engineering consultants helped the Port determine which of them would be safe and workable.
Through this process, Violet revealed itself to be the best location for a modern container ship terminal on the Lower Mississippi River because of its:
Naturally deep water that is easy to navigate and doesn't need dredging
Existing connections to national rail and road networks
Protection from hurricanes and storm surges behind federal levees
River current that is parallel to the wharf for safe docking
Space for larger ships to dock
The Violet navigation study is available at YourWorkingRiver.com.
Federal Permitting Process
Construction cannot begin until the U.S. Army Corps of Engineers issues the necessary permits.
Under the National Environmental Policy Act (NEPA), the proposed terminal must go through a detailed impact study to determine if the permits for construction should be issued.
To renovate a house or build an addition, a person would need to apply for a permit with finished plans in hand. The federal permitting procedure for projects like the Louisiana International Terminal is different. The terminal will be designed as a part of the two- to three-year process that requires public input. Watch the video for a quick overview of the federal permitting process.
You can also review the graphic on this page or download this handout for more information.
Click image above to enlarge
The Terminal: Layout and Design
To begin the federal permitting process, the design team submitted a permit application to the Army Corps of Engineers. The application included an initial layout for the terminal. This layout is just a starting point. It is not final, and it will change during the two- to three-year permitting process.
Click image above to enlarge
Our team must balance a variety of considerations as we design the layout.
St. Bernard Highway

Design options include looping around the terminal, hugging the levee, and other considerations
Traffic

Maintain access for residents
Keep terminal traffic out of neighborhoods
Work with partners on a third connector roadway (an alternative to St. Bernard Highway and Judge Perez Drive.)
Rail

Design options include looping around the terminal and hugging the levee
Minimize noise and traffic
Drainage

Options include drainage ponds, pump stations, etc.
Coordinate with parish Master Drainage Plan
Maintain or improve drainage conditions, not worsen
Buffer

Clearly separate terminal from neighborhoods
Minimize noise
Options include green space, sound walls, and other features
Cemetery

Keep in place with room for expansion
Easy and safe access
School and Park Relocation

Relocate the existing school and ballpark within the Violet community
Build facilities equal to or better than existing facilities
Environmental

Follow industry-leading environmental practices
Community Commitments
As we develop the terminal layout, we are committed to working with Violet residents and the St. Bernard Parish community to design a project that protects the local quality of life.
These commitments include:
Identifying options to minimize traffic impacts
Supporting a separate project to design and build a third roadway to connect Lower St. Bernard to I-10
Building new school and ballpark facilities within Violet that are equal to or better than the existing facilities
Keeping Merrick Cemetery in its current location with room for possible expansion
Minimizing the impacts to adjacent neighbors, such as noise, terminal visibility, etc.
If you have questions, concerns, or ideas related to your community's quality of life, come visit us at our Community Connection Office in Violet. We're located at 6201A E St. Bernard Hwy on Mondays, Wednesdays, and Fridays.
Click image above to enlarge
A Third Roadway
Port NOLA is committed to working with local, state, and federal transportation partners to design and build a new elevated roadway outside the levees along the 40 Arpent Canal. This parallel project would connect Lower St. Bernard to the interstate system.
While this roadway is not a Port NOLA project, we are a dedicated partner. Port NOLA is supporting early steps in coordination with the Regional Planning Commission and the Louisiana Department of Transportation and Development.
The new roadway would:
Help to relieve traffic congestion that would happen with or without the terminal,
Offer an alternative route for trucks,
Serve as another hurricane evacuation route for residents in the parish,
Attract and keep new economic investments and industries, and
Reduce safety concerns and air quality impacts on local roadways.
This third roadway is something local officials and community members have envisioned for years. We believe the terminal can serve as a catalyst to align resources to deliver this much-needed infrastructure.
Click image above to enlarge
Environmental Management
To further protect the quality of life in St. Bernard Parish, the Louisiana International Terminal will go above and beyond the legal requirements for environmental protection.
We are taking additional, voluntary steps to protect the environment, such as:
The Port of New Orleans' existing terminal already offers the Clean TRIP program and has received the Green Marine certification. Click the links to learn more about each program.
Click image above to enlarge
Click image above to enlarge
Jobs and Economic Opportunities
St. Bernard Parish and the state will benefit from the economic opportunities provided by the Louisiana International Terminal. The project will be a major economic driver for generations to come, according to an economic study prepared by Dr. Dek Terrell with Lewis Terrell and Associates at LSU.
As business at the terminal grows over time, more and more family-supporting jobs will be created both on and off the terminal.
To help locals apply for these jobs, the Port is already working on concepts for workforce development and job training with partners like:
Louisiana Economic Development (LED) Fast Start
The International Longshoreman's Association
Local Community Colleges
Regional and Local Economic Development Organizations
Click image above to enlarge
Local Tax Revenue
New tax revenues resulting from the terminal are also expected to grow over time as cargo volumes increase. This will give St. Bernard Parish funds to invest in resources and services for community members.
These projections come from an economic study prepared by Dr. Dek Terrell with Lewis Terrell and Associates at LSU.
Download a handout about the projected economic impact of the proposed terminal here.
If you're interested in doing business with the Port of New Orleans and the proposed Louisiana International Terminal, register as a vendor at portnola.com/business/procurement.
Click image above to enlarge
Stay in Touch
Thank you for visiting this online open house!
Please submit your questions, comments, and feedback to our team. We hope you stay involved!
Note: This online open house is not part of the formal public comment period for the federal permitting process. Please continue to provide comments to the U.S. Army Corps of Engineers.