Welcome to South Bay Connect, a key rail improvement project that aims to enhance connection and access for Capitol Corridor riders, reduce train congestion between Oakland and San Jose and improve operations for both passenger and freight service.
While California's population continues to rise, affordable housing markets are being pushed further away from the urban core of the Bay Area. The result is a heightened need for an integrated transportation network that offers convenient and accessible travel options like passenger rail to keep people moving. As the only public transit service that directly connects the greater Sacramento region and Central Valley to the Bay Area and Silicon Valley, Capitol Corridor serves as the backbone of the 21 County Megaregional transit system , providing an essential connection and alternative to driving on congested Northern California interstates of 80, 680, and 880. Along with passenger rail, our valuable transportation system also includes a freight rail network that brings our growing communities the goods they need to sustain their daily lives.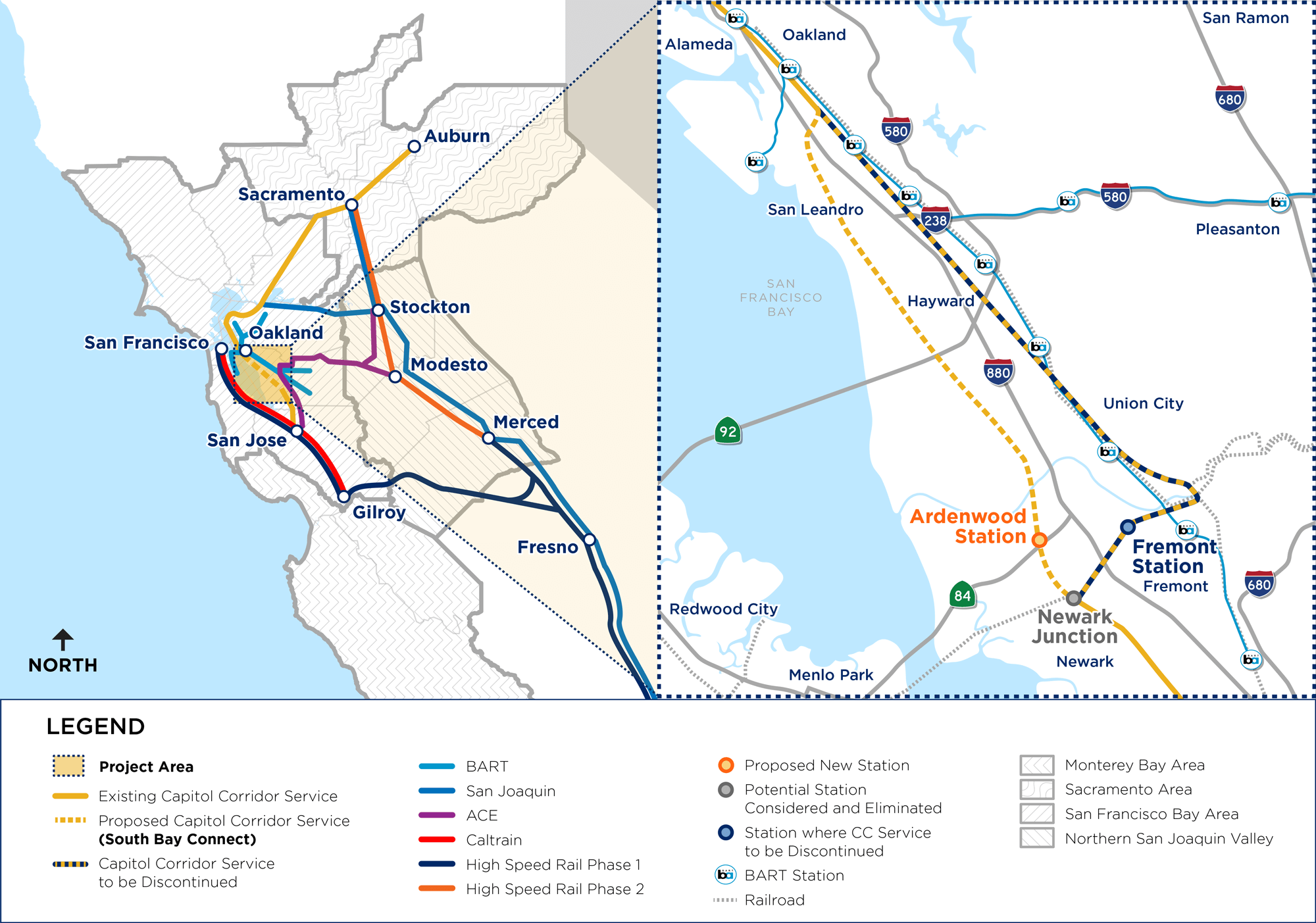 State, regional and local transportation agencies are working closely to plan for our future mobility and access to those things that matter most: our jobs, families, friends, and recreational activities. South Bay Connect proposes to relocate Capitol Corridor passenger rail service between Oakland and San Jose to unlock existing rail challenges within the corridor. This relocation was listed within Capitol Corridor Joint Powers Authority's (CCJPA's) 2014 Vision Plan Update and 2016 Vision Implementation Plan, as well as the 2018 California State Rail Plan and Plan Bay Area 2040. These rail improvements are also consistent with the Alameda County Transportation Commission (Alameda CTC) 2016 Goods Movement Plan, Alameda CTC's Countywide Transit Plan and 2018 Rail Safety Enhancement Program, the 2017 Dumbarton Transportation Corridor Study, and Dumbarton Forward Design Alternatives Assessment.
The collective plans establish a clear roadmap for Capitol Corridor that identifies service improvements to be implemented over time.
Population growth within the Northern California Megaregion is not expected to slow down, and providing a seamless, connected transportation network that links housing to jobs is critical. As one of several transportation projects within the Northern California Megaregion, South Bay Connect will lay the foundation for improved rail operations and ensure that Capitol Corridor has the ability to increase capacity when that need arises.
Quick Facts About Capitol Corridor:
Provides intercity passenger rail service between the Greater Sacramento region, Bay Area, and Silicon Valley/San Jose.
Capitol Corridor Joint Powers Authority (CCJPA) is the lead agency for the proposed South Bay Connect project and is working in partnership with Caltrans, Union Pacific Railroad (UP), Alameda County Transportation Commission (Alameda CTC) and Metropolitan Transportation Commission (MTC). In addition, CCJPA is coordinating closely with the cities of Hayward, Union City, Fremont and Newark.
Learn More
Explore the project area, benefits, funding information, and more.