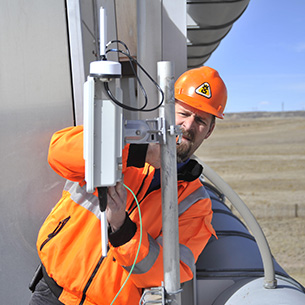 Welcome to our online community meeting!
Here you will learn more about WYDOT's State Transportation Improvement Program (STIP) and provide feedback on what improvements are important to you and your community.
MEETING DIRECTIONS
This is a self-navigating meeting for you to participate at your leisure. Take your time and be sure to provide your input.
To advance to the next portion of the meeting, click on the arrows on the upper right of your screen.
Use the navigation bar at the top of your screen to revisit any part of the meeting.
You may provide a comment or ask a question using the button in the upper right corner of your screen.
WYDOT is updating our State Transportation Improvement Program
The STIP is the method we use to develop projects to meet our performance goals, as well as both state and federal goals that are included as part of the funding we receive. It is a six-year program approved by the transportation commission. The STIP provides a snapshot of existing and expected projects and their schedules, and is continually updated. The current STIP is for the years 2021-2026
The previous STIP is currently being reviewed and updated based on your input and infrastructure needs around Wyoming.
Read the previous STIP.
The STIP represents the following elements for each of the 550+ projects
Planned Construction
Preliminary Engineering
Right of Way
We need your feedback!
WYDOT has put in place a pavement, bridge and a safety management system to assist in optimizing its limited resources in order to produce a safe, high quality, and efficient transportation system. Projects listed in the STIP reflect the best candidates to allow the State of Wyoming to achieve its goals even though funding is limited.
Tell us more about you and what's important to your transportation experience. Please answer the following questions.
Transportation Survey
What projects are proposed?
Click on the image below to view your county and a list of projects that are proposed or currently taking place in your area. Provide your input and let us know if anything is missing!
Click on the image below to view the map in a new window.
Click on the image below to view the map in a new window.
Where are we in the process?
Click on the icons to see more information.
2019


STIP Inputs
Asset Management Systems
Safety
Performance Measures
Economic Development
Long Range Transportation Plan
Mobility
Budget
April - May 2020


Candidate Projects
Highway Projects
Rail Projects
Public Transit
Indian Reservation Road Projects (IRR)
Federal Lands Projects
Enhancement Projects
MPO Tip Projects
Aeronautics Projects
Off-system Projects
Capital Projects
Other Projects
June - August 2020


Public Input
Transportation Commission
Aeronautics Commission
PSC Commission
Transportation Alternative Program (TAP)
Citizens
Public Agencies
Transportation Agencies
MPO's
Tribal Governments
Federal Agencies
Bureau of Indian Affairs
Local Governments
September


Transportation Commission
Approves STIP
Federal Highway Administration (FHWA) concurs in approval
Federal Transit Authority concurs in approval
October


STIP Inputs
How is the STIP funded?
Funding for the STIP includes a split between the sources listed below for each project:
Federal
Highway User Fees
Other State Revenue
$678,434,243
Fiscal Year 2020 Total Funding
Wyoming Roadways: Funding Allocation - Fiscal Year 2020
Commission
84% - $569,856,596
Programs
Construction
Equipment
Traffic
Maintenance
Facilities
Financial
Services
Legislative
16% - $108,577,647
Programs
Patrol
Driver's License
Human
Resources
Aeronautics
Motor Vehicles
Ports of
Entry
Get in Touch!
Would you like to talk with someone about projects in your community? Find your county and contact information below, as well as details on the in-person meeting. Or leave a comment by clicking the bar at the top of the page.View the in-person meeting presentation.
DISTRICT 1
DISTRICT 2
DISTRICT 3
DISTRICT 4
DISTRICT 5
Albany, Carbon, and Laramie Counties
Jordan Achs
Public Involvement Specialst
307-754-2142
In-Person Meetings
Click on the counties below to view in-person meeting dates and times and/or view the previous in-person meeting presentations.
Albany County
Meetings occurred on Tuesday, July 14, 2020.
Carbon County
Meetings occurred on Wednesday, July 15, 2020.